Slim fit jacket unlined john barritt and celestial blue
Description
Feature sumary of item:
MODEL

Two-

button

jacket

unlined

with pockets

and

side vents

.

Under collar

in

contrast.

MATERIAL

Lining: 100% Viscose fabric Bottoli

COLOUR
SIZE

From size 46 to 56

Choose your size.

SUITABILITY
Slim Fit Adherent Fashion
BRAND
JOHN BARRITT - STYLE FASHION

Datasheet
The following are the measures of the shirt exhausted.
Take measures is very simple:
choose the section to be measured;

see from the picture the letter of the section and the distance to be measured (represented by colored line), compares the desired section sizes and compare them with a boss who uses (only way to not get it wrong size)

found in the attached table of measures, the measure in centimeters;
play it! you're ready to buy!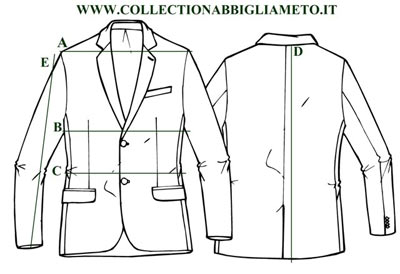 Table of size:
SEGMENT
44
46
48
50
52
54
56
58
60
62
64
66
A
44
45
46
48
49
50
51
B
52
53
54
57
60
61
62
C
47
48
50
52
54
56
58
D
72
73
73
75
76
75
77
E
63
64
65
66
66
66
67
Properties
| | |
| --- | --- |
| Category: | |
| Color: | |
| Size: | |