Description
Feature sumary of item:
MODEL

American Pocket (chinos) Slim fit fitting leg.

MATERIAL
COLOUR

662 Beige

634 Blue

635 Blue

631 Medium Grey

Choose your favorite Color

SIZE
SUITABILITY

Medium low crotch, slim fit tight leg. (See more detailed information on the data sheet)

BRAND

Viapiana by VP
Datasheet
The following are the measures . Taking measurements is very simple:
choose the section to be measured;

see from the picture the letter of the section and the distance to be measured (represented by colored line), compares the desired section sizes and compare them with a boss who uses (only way to not get it wrong size)

found in the attached table of measures, the measure in centimeters;
play it! you're ready to buy!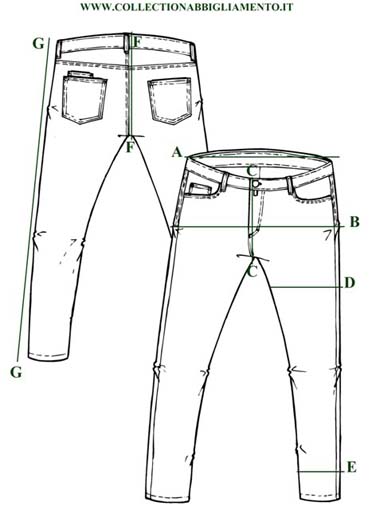 SEGMENT

IT46

US32

IT48

US34

IT50

US36

IT52

US38

IT54

US40

IT56

US42

IT58

US44

A
39
43
45
46
48
51
52
B
47
50
51
53
54
56
57
C
22
23
24
24
25
25
27
D
25
27
29
30
30
30
30
E
17
17
18
18
18
19
19
F
34
35
36
37
38
38
39
G
105
106
106
107
107
108
110