Description
Feature sumary of item:
MODEL
Collar with removable collar stays, screwed waisted slim fit.
MATERIAL
97% Cotton 3% Elastomer
COLOUR
14 - Dark Purple
SIZE
From 38 to 44
SUITABILITY
Slim Fit - Tight with shots behind.
BRAND
ARAMIS
Datasheet
The following are the measures of bulging shirt. Taking measurements is very simple:
choose the section to be measured;
See the letter from the image section and the distance measured (represented by red line);
found in the attached table of measures, the measure in centimeters;
play it! you're ready to buy!
EASY SIZE - CAMICIA (SLIM)
Choose your size and take the measures required under section (chest, back, waist, length, bicipide, neck, shoulder, sleeve from center back, the sleeve lap)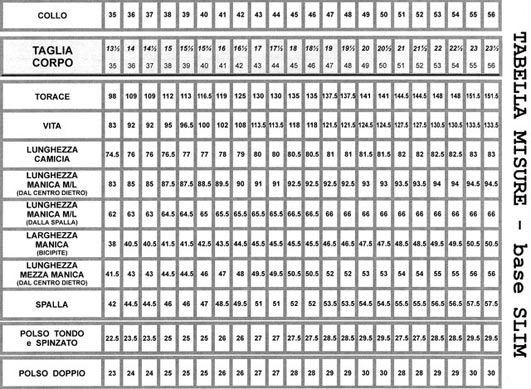 SPEDIZIONI / SHIPPING
Clothing Collection delivers all ITALIA GRATIS !
MODALITA' DI PAGAMENTO / PAYMENTS

Payment on delivery is only valid for Italy.

BUYER'S RIGHTS

Collection Clothing adopt the clause for its customers: MONEY BACK GUARANTEE!

Also:

Purchases made on our listings, as all purchases remotely via telephone or correspondence, since they occur outside of business premises are protected by Decree 185 of May 22, 1999, which provides the opportunity for the consumer exercise the right of withdrawal
The consumer may exercise that right within a maximum of 10 working days from the receipt of goods
This right is the right to return goods purchased from the supplier without penalty and without specifying the reason, and the resulting refund of the purchase price