Description
Feature sumary of item:
MODEL

One button

jacket

,

with central opening

chest

lined

with

blue

Lance




6 waistcoat buttons d

amask

, double-breasted placket adjustable.




Narrow leg Chino Model pants, walked.




Full suit Jacket Trousers Waistcoat Cravat with custom pin Luciano Soprani

MATERIAL

36

% Acetate

32

% Polyester

16

% Cotton

16

% Acrylic





Jacket and

liner

Vest

55

% Acetate

45

% Viscose

COLOUR
SIZE
SUITABILITY

Tight Slim Fit fashion drop 7

BRAND

LUCIANO SOPRANI Ceremony
Datasheet
INFO SIZE
The following are the measures. Taking measurements is very simple:
choose the section to be measured;

see from the picture the letter of the section and the distance to be measured (represented by colored line), compares the desired section sizes and compare them with a boss who uses (only way to not get it wrong size)

found in the attached table of measures, the measure in centimeters;
play it! you're ready to buy!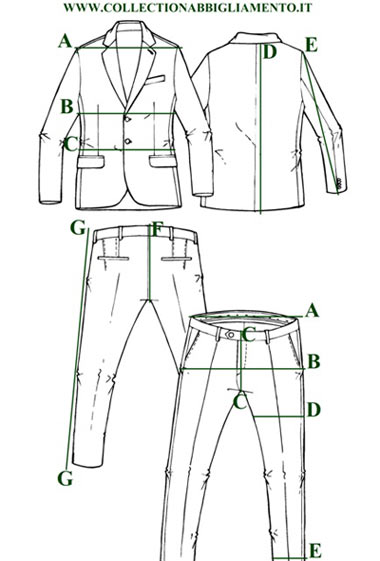 Table of size: Jacket
SEGMENT
44
46
48
50
52
54
56
58
60
62
64
66
A
41
42
44
45
46
48
B
47
50
51
53
55
57
C
44
46
48
50
52
53
D
71
72
74
75
76
77
E
64
64
65
66
67
68
F
G
Table of size: Pants
SEGMENT
44
46
48
50
52
54
56
58
60
62
64
66
A
41
43
45
47
48
51
B
48
50
52
53
55
57
C
22
23
23
24
25
25
D
24
26
26
27
27
29
E
18
19
19
19
20
20
F
38
38
39
41
42
43
G
112
114
115
116
118
119
Properties
| | |
| --- | --- |
| Category: | |
| Size: | |