Description
Feature sumary of item:
MODEL

American Pocket (chinos) Close-fitting leg with back pockets with flap.

MATERIAL

98% Eashed Cotton

2% Elastane

Spring Summer

COLOUR

720 Light grey Ice

111 Blue

23 Beige

Choose your favorite Color

SIZE
From size 48 to 60.

Choose your size
SUITABILITY

Average

low

,

horse

leg

Slim Fit

compliant

(See more detailed information on the data sheet)

BRAND
QUOTA OTTO
Datasheet
The following are the measures . Taking measurements is very simple:
choose the section to be measured;

see from the picture the letter of the section and the distance to be measured (represented by colored line), compares the desired section sizes and compare them with a boss who uses (only way to not get it wrong size)

found in the attached table of measures, the measure in centimeters;
play it! you're ready to buy!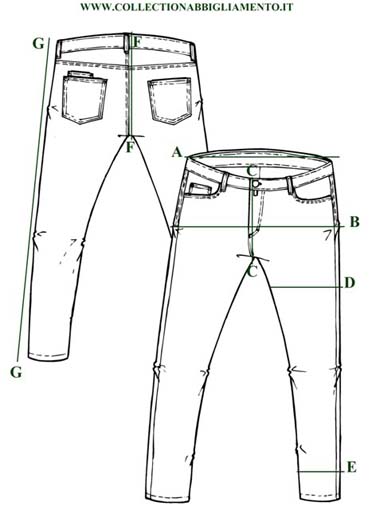 SEGMENT

IT46

US32

IT48

US34

IT50

US36

IT52

US38

IT54

US40

IT56

US42

IT58

US44

A
39
43
45
46
48
51
52
B
47
50
51
53
54
56
58
C
22
23
24
24
25
25
25
D
25
27
29
30
30
30
31
E
17
17
18
18
18
19
19
F
34
35
36
37
38
38
39
G
105
106
106
107
107
108
108