Description
Feature sumary of item:
MODEL

One button jacket with central slit, spear chest with contours in contrast with the fabric matching the waistcoat and tie, complete with tie waistcoat and clutch bag.




Double breasted vest with eight buttons with contrasting chest.




Trousers model chinos leg tight bottom parade.




Dress complete with trousers jacket tie vest with brooch, clutch and white shirt diplomatic neck including twins Musani Milano

MATERIAL



64% Polyester 34% Viscose 2% Lyocell




Lining: 50% Viscose 50% Acetate

COLOUR
Bluette
SIZE
SUITABILITY

Slim Fit

Drop

Seven

(

See

more detailed information

in the technical data sheet)

BRAND
Datasheet
INFO SIZE
The following are the measures. Taking measurements is very simple:
choose the section to be measured;

see from the picture the letter of the section and the distance to be measured (represented by colored line), compares the desired section sizes and compare them with a boss who uses (only way to not get it wrong size)

found in the attached table of measures, the measure in centimeters;
play it! you're ready to buy!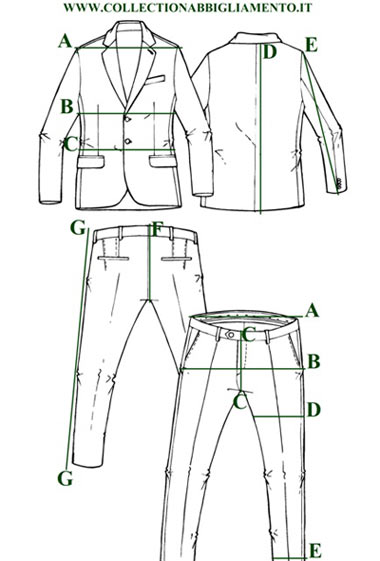 Table of size: Jacket
SEGMENT
44
46
48
50
52
54
56
58
60
62
64
66
A
42
44
45
47
48
49
50
51
54
B
48
50
53
54
56
57
62
54
68
C
45
47
49
51
53
55
58
60
64
D
70
72
73
73
74
75
76
76
76
E
63
63
64
65
66
68
68
68
69
F
G
Table of size: Pants
SEGMENT
44
46
48
50
52
54
56
58
60
62
64
66
A
40
41
42
45
48
50
53
55
59
B
48
49
51
53
55
57
61
62
67
C
24
24
24
25
25
25
26
26
26
D
26
28
28
28
29
30
30
31
32
E
17
18
18
19
19
19
20
20
21
F
36
38
38
38
39
39
40
40
41
G
112
115
117
117
118
118
120
120
120